With the 2019 season over and 2020 on the horizon it's time to celebrate the people and moments that made one of the most exciting and dramatic seasons in recent memory.
Driver of the year: Lewis hamilton
Now let me say I am no Hamilton fan and despite being British as well I supported Rosberg during their years together at Mercedes.
But there is no denying what he has achieved during his tenure with the German outfit, taking his 6th drivers world title and only one away from matching Michael Schumacher. Not only that he is now only 8 wins off taking the most F1 race victories as well.
While his season this year hasn't been a complete walk with Ferrari's mid season surge but he managed to come back and secured the title with 3 races to spare and finished off the season with a dominate win at Abu Dhabi.
HONORABLE MENTION: CHARLES LECLERC
Race of the year: Brazil
As per usual Brazil provided a banger of a race and proved to many why it should be reinstated as the season finale. It had everything collisions, drama, controversy, a drag race finish and a debut podium.
Verstappen took his third win of the season and for while it looked like Albon would join his teammate and take his first F1 podium, until Hamilton got a bit too ambitious and took dive down the inside sending both of them spinning. This put Albon out of podium contention but allowed Gasly (who had been demoted to Toro Rosso in place Albon only a few months earlier) to move up to second, it was then a drag race to the finish between Hamilton and Gasly with the Honda engine outpacing the Mercedes to give Gasly his maiden podium.
There was drama as Kubica almost collided with Verstappen on pit exit, a collision between Ricciardo and Magnussen, Bottas retiring and causing a safety car and another safety car after the two Ferrari's came together as they battled for position causing them both to retire.
It was truly a stunning race and a potential contender for race of the decade.
HONORABLE MENTIONS: ITALY/GERMANY
Win of the year: leclerc, italy
For me, and I've no doubt the whole of Italy, there was no other choice after 9 years of defeat at home, Ferrari finally won on home soil with Charles Leclerc showing amazing pace and resilience to fend off the Mercedes.
Despite being a Mclaren/Norris fan you should have seen my sisters face watching me react to him winning.
HONORABLE MENTIONS: LECLERC, BELGIUM/BOTTAS, AUSTRALIA
pole of the year: leclerc, Belgium/Italy/Singapore/Russia
This may seem like cheating but honestly whats makes all of these special is that they were consecutive and made the bulk of Leclerc's pole tally. Having already taking two poles in Bahrain and Austria, which themselves almost turned into victories, this series of poles pretty much cemented his position as the strongest driver at Ferrari (at least in my opinion).
And despite only two of these becoming victories they showed that Charles means business and makes him a prime candidate for future world titles.
Overtake of the year: Sainz on Hulkenberg, abu Dhabi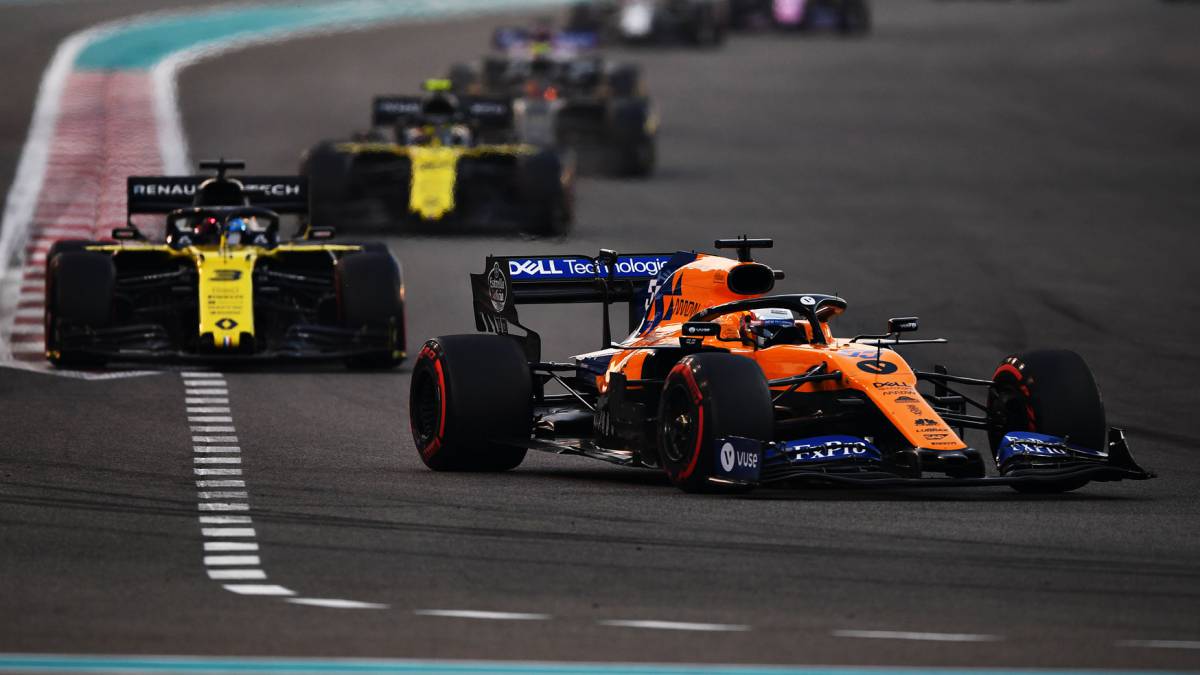 This was an essential move for Sainz as it secured him the one point he needed to finish 6th in the drivers standings the first driver not from a top three team to do so since 2015.
It was also a great move on it's own, a dive bomb at the last overtaking opportunity on the lat lap, and the team radio showed how pleased Sainz was with it.
HONORABLE MENTIONS: VERSTAPPEN ON HAMILTON, BRAZIL/LECLERC ON GASLY, BRITAIN
Team of the year: Mclaren
2019 has been an almost perfect reset for Mclaren a new team principal in Andreas Seidl, a completely fresh line up with Carlos Sainz cutting ties with Red Bull and F2 star Lando Norris making the jump means they have swamped the rest of the mid-field to take best of the rest.
Compare this to their abysmal 2018 season in which they scored less than half of the 2019 points and it's clear they are the most improved team and set of a great 2020.
HONORABLE MENTION: MERCEDES
Crash of the year: vettel & leclerc, Brazil
This wins not because of the severity of the impact but what it means. It was perhaps inevitable that Vettel and Leclerc would come together as the tension between the two overflowed. Vettel the 4 time world champion trying to claw back the authority he had at Ferrari when Raikkonen was there and Leclerc the young gun trying to play fair and show his potential.
The most significant thing about it is that is sets a precedent going into 2020 as they will have to learn to play nice or one of them will leave.
HONORABLE MENTION: EVERYONE, GERMANY
Rookie of the year: lando norris
Call me biased but I honestly believe Norris has defied expectations this year and proven himself to be one of the most likeable and friendly drivers on the grid. Not only that he has manged to hold his own against the much more experienced Carlos Sainz and even been better on a good day.
HONORABLE MENTION: ALEXANDER ALBON
Surprise of the year: BOTTAS WIN, AUSTRALIA
Kicking off the season in style Bottas shocked the paddock by storming to victory in Australia and winning by over 20 seconds. Despite Hamilton getting pole Bottas snatched the lead into turn one and flew away from he field. What made it even more special was when asked what he had for breakfast he replied, with that Finnish wit, Porridge.
HONORABLE MENTIONS: KVYAT PODIUM, GERMANY/GASLY PODIUM, BRAZIL
Special Mention
Last year in this section I talked about the celebratory doughnuts Hamilton, Vettel and Alonso did to commemorate the end of Alonso's career. This time around I want to use it to celebrate the people we lost this year.
Charlie Whiting 1952-2019
On the 14th March just 2 days before free practice for the season opener it was announced that F1 Race Director Charlie Whiting had passed away due to a pulmonary embolism. It was a shock for the entire motorsport family and placed a black cloud over the season opening weekend. Sebastian Vettel gave a heartfelt tribute to Whiting, who was an integral figure in safety improvements in F1, in July.
Niki Lauda 1949-2019
After months of silence regarding Lauda's health it was announced he had died in May. It was known that he had received a lung transplant months earlier and had been absent from the paddock since.
Lauda was one of the legends of the sport a triple world champion and had an infamous rivalry with James Hunt. Most recently he had become a driver coach and Non-executive chairman of the Mercedes F1 team and played a key part in Lewis Hamilton's move to Mercedes.
Anthoine Hubert 1996-2019
This was one of the most tragic events of motorsport in 2019, following a heavy crash at the start of the F2 feature race in Belgium it was announced that Anthoine Hubert had succumb to his injuries.
The incident happened at the top of the Eau Rouge corner as Hubert spun and was T-boned by Juan Manuel Correa, who also suffered serious injuries requiring major surgery. He was one of the rising starts of the sport and had already achieved two F2 wins including one at his home race in France. The rest of the F2 schedule was canceled while friend Charles Leclerc went on to get pole and his first F1 win dedicating it to Hubert.
And with that GPAddict will sign off for 2019.
What do you think of these awards and who were your winners? Let me know in the comments and please like and share.
Images sourced from f1-fansite.com