Sebastian Vettel has won in Monaco ending Ferrari's 16 year winless streak in Monaco (the last win for Ferrari was Schumacher in 2001).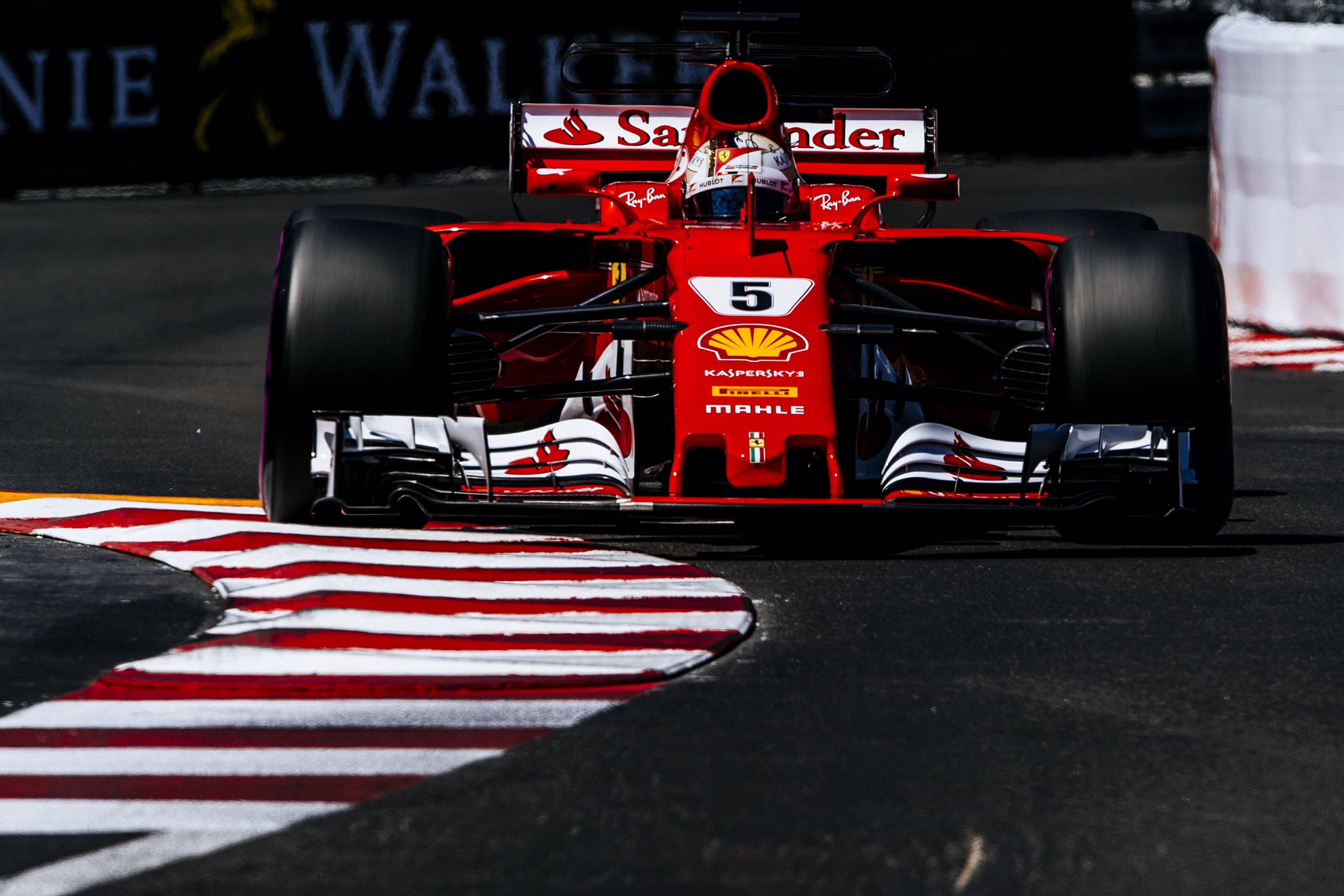 Before the race began it was announced that Jenson Button would start from the pit lane after the team made changes to his set up. He also revived a radio message from Fernando Alonso who will begin the Indy 500 race a few hours after the race.
The start was fairly quiet with very few incidents and it wasn't until lap 16 that we saw the first retirement, with smoke spewing out the back of Hulkenberg's Renault.
Wehrlein and Button pitted early on but they almost came together on pit exit when the Sauber was released early, he was subsequently given a five second penalty for an unsafe release.
Come lap 15 and Vettel was closing the gap to Raikkonen getting the gap down to 1.6 seconds. The Finn wasn't helped by back-markers Button and Wehrlein, allowing Vettel to get within one second before Raikkonen managed to lap Button and Werlein leaving Vettel to play catch up.
Verstappen pitted on lap 33 with Raikkonen in not much later. Ferrari however elected to leave Vettel out a few more laps and it payed off as he came out ahead of his team mate.
Come lap 41 and all the leaders had pitted, Verstappen was not happy that he he had been put on a different strategy than Ricciardo putting him behind the Australian.
Meanwhile Hamilton had recovered from a terrible qualifying up to 7th which was his eventual finishing position.
Then came a very unusual crash as Button tried a dive down the inside of Wehrlein at portier. However Wehrlein didn't see him coming and closed the gap to take his apex.
However it was too late and Wehrlein hit the Mclaren's front left tyre, flipping him up before coming to a halt on his side with the top of the car flat against the wall. Button also broke his front left suspension and retired at the chicane.
Thankfully he was ok and managed to get out unharmed. The incident did however cause a safety car with many of the cars further back pitting. On lap 66 the lapped cars where allowed to pass the safety car and catch the back of the que.
However as Ericsson tried to do so at turn one, the cold brakes and tyres caused him to go straight on and crash into the barrier.
The safety car came in on lap 67 and the battle for the win was on.
Whilst trying to overtake at turn one Ricciardo tapped the outside wall and somehow escaped but seemed to struggle there after, however he held on for the final podium position.
Perez caused damage to his Force India with an audacious move up the inside of Kvyat at Rascasse. Kvyat later retired along with Vandoorne who crashed at turn one.
Finally Stroll was forced to retire for the 4th time in only his first 6 races.
Final standings are as follows