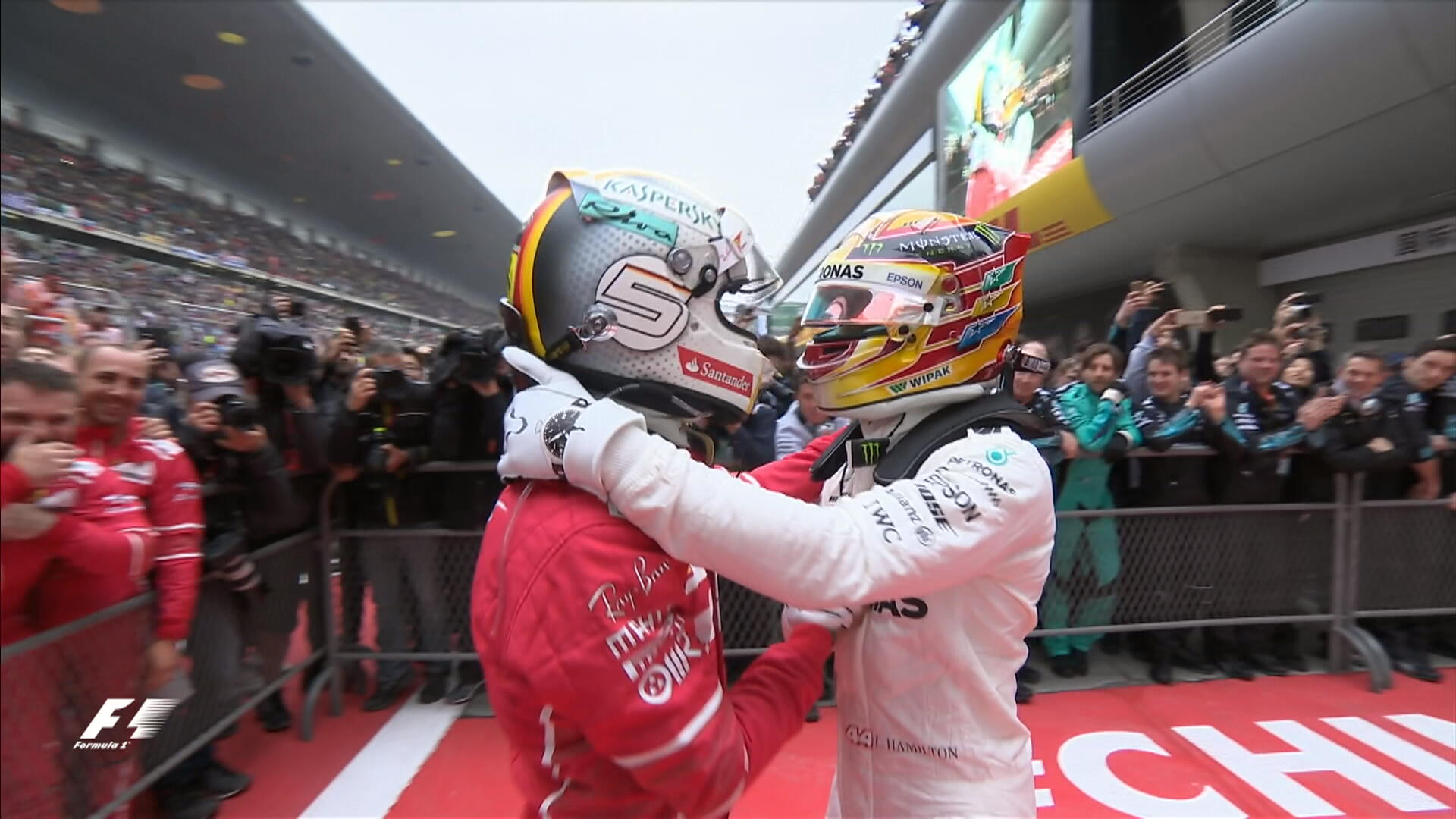 After Australia people said overtaking was near impossible in these new cars, then China happened.
It was a dominant drive from Hamilton who you could say won on the same grounds that Vettel did in Australia, that being Lewis getting held up by Verstappen in Australia and Vettel getting caught out by the safety car today.
The race started in wet conditions with everyone but Carlos Sainz opting for intermediate tyres. And had the race started in sector 2 he could have been right up there given that that part of the track was dry.
Off the line it Hamilton got the better start and led into turn 1, Vettel once again just managing to keep the other Mercedes of Bottas behind. An amazing start for Verstappen though, after starting in 16th he powered through the field to be seventh by the end of lap one. And finished on the podium. His team mate 'Ricciardo' pipped Riakkonen to fourth in the first few corners.
It was between the aforementioned drivers where most of the battles/overtakes were. Most notably between the Red Bull's and Ferrari's.
Despite nearly everyone having started on inters, it quickly became clear the slicks the right tyre to be on. With Vettel and many others pitting under a VSC triggered by Stroll's stranded Williams.
However that advantage was short lived as a full safety car brought out just as Vettel was ready to push. The battered Sauber of Giovinazzi crashed in the same place as in qualifying. The Italian seemingly aquaplaned on the damp part of the circuit.
This caused Vettel to drop to 6th and started a string of great battles.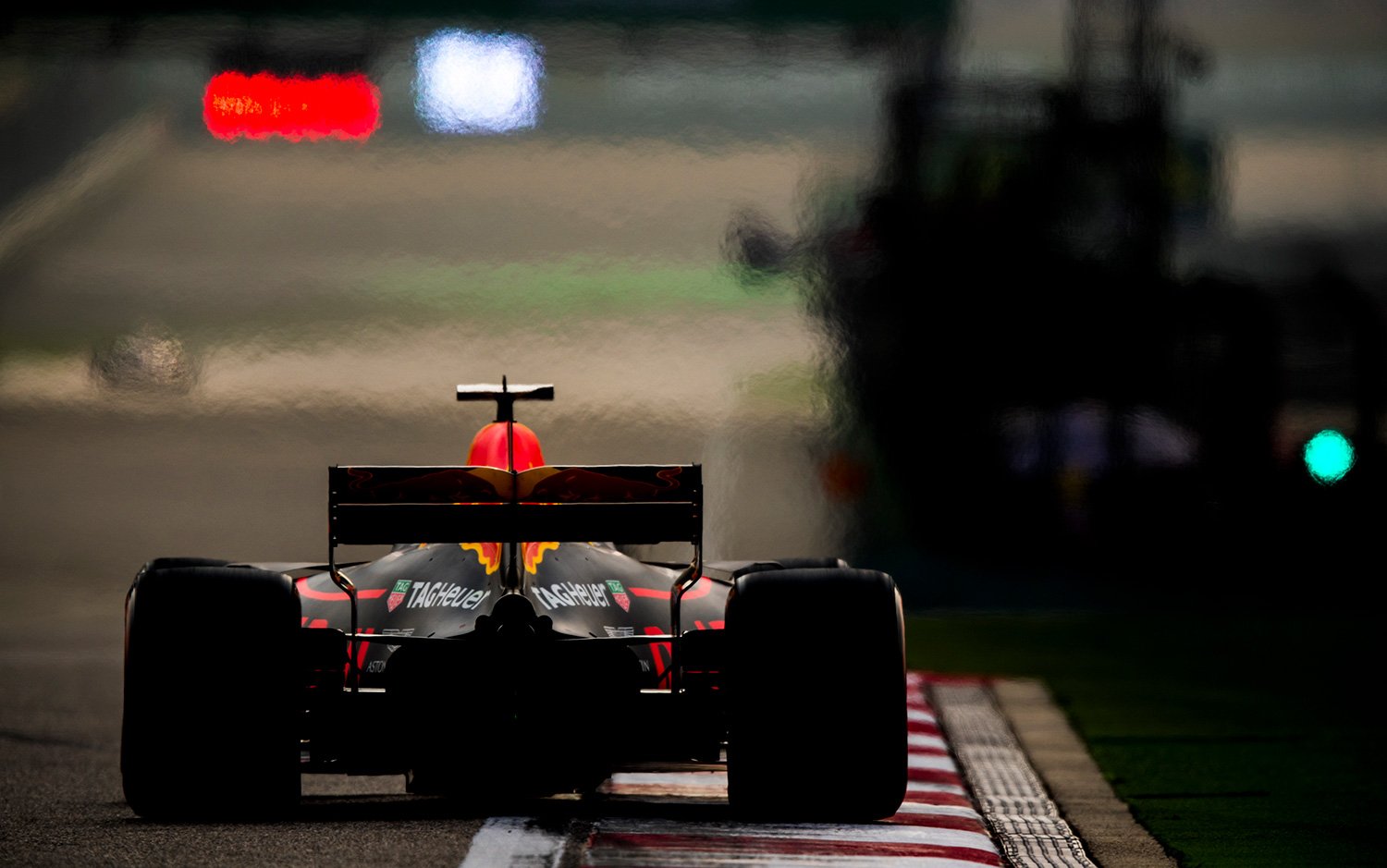 It was Verstappen who seemed to be Hamilton's main challenger with Ricciardo, Riakkonen and Vettel all chasing him down. The German went on a charge, after being held back by team mate Riakkonen he finally got past on lap 20, then Ricciardo two laps later. Then a dive bomb move on Verstappen's inside, locking up and forcing the Dutchman wide.
And from there it was a straight fight between the German and Lewis.
As for the other Mercedes of Bottas he had an embarrassing spin whilst warming his tyres under the safety car and dropped from 5th to 12th.
It was another superb drive from Sainz, who after a spin on lap one with his slick tyres, recovered to get 7th and best of the rest. Next was Kevin Magnussen in the Haas ahead of the Force India's who got their second double points finish of the season. Grosjean improved on his starting position, which included a 5 place penalty, he came just outside the points.
Hulkenberg had a fantastic qualifying in 7th but after a 5 second penalty and then another 10 second for speeding under both the virtual safety car and the real one. Palmer was 2 seconds behind.
It was a weekend to forget for Williams. With Stroll retiring, Massa fell from his 7th place grid slot to 14th. Ericsson was the last of the finishers.
Both Mclaren's suffered more technical issues causing both to retire. Kvyat also had problems but of a mechanical manner.
Just one week now to Bahrain and we could be in for a good one.
Final standings are as follows